"

There are no size limits on dreams so DREAM BIG WHY NOT?! "
— Julie Moriva
"I attended Julie's seminar at the 2019 Between The Waves Music Conference in Madison and it was inspirational! The room was packed with songwriters who were hinged on every word as she described her journey and lessons learned. The key is we all have the ability to dream big, work hard and persevere."
                                                                                                                                             ~Chris Tso, VP of Merchandising, Full Compass Systems & Songwriter
"To hear Julie tell her story is an inspiration to all who have dreams we've yet to chase. She proves it's NEVER too late to change direction in pursuit of what you desire."
                                                                                                                                                    ~Jennine Vainisi, Author & Literary  Advocate
"The Dream Big workshop is an amazing combination of  Julie's knowledge, insights and valuable lessons that attendees can take away and use to start or continue their journey of choice. Real value with an incredibly real  and lovely person!"  
                                                                                                                                                                                                ~ Mark Nordeen, NSAI Workshop Coordinator
Dream Big Why Not?!
 ARE YOU READY TO TRANSFORM LIFE AS YOU KNOW IT TO LIFE AS YOU DREAM IT? 
 Would you love a different career? Is there a hobby or interest you're passionate about but have yet to pursue? Do you have a goal you want to achieve but have no idea where to start? So did I!
I launched into action without much thought or planning. But from the beginning I did something that laid the foundation for this book. I kept a detailed journal on my path to becoming a professional songwriter. This journal allowed me to look back, connect the dots and see what worked and what actions propelled me much more efficiently towards my goal.
Now I want to share this knowledge and what I've learned with anyone who desires to pursue their own dream, goal, aspiration or ambition. My story is based on my situation - a 40-something wife, mother and educator living in a tiny northern Wisconsin town, whose goal was to become a professional songwriter. I ultimately signed a publishing deal with one of the most successful record labels in the music industry. The beauty of the principals I learned is they can be applied to whatever it is you hope to achieve.  The only question to ask is, "Am I ready to Dream Big Why Not?! "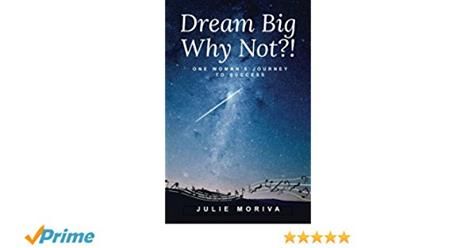 Get the #1 New Release on Amazon
TO BOOK JULIE to speak at your event use the contact tab above or email: 
                                     Boldentertainmentagency@gmail.com 
Julie is available for presentations, workshops, breakout sessions and panels. Topics include but are not limited to:
* Dream Big Why Not?! - how to achieve your dreams and goals 
* Songwriting
* Women in Business and the Music Industry
* Artist Management
*Songwriting, Artist Development & Music Business
* Topics can be tailored to meet the needs of your event.
CHECK OUT Julie and Dream Big Why Not?! on social media below: