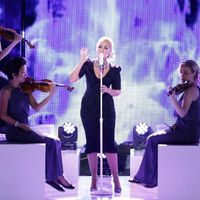 I have just completed an amazing piece of a journey that I was extremely fortunate to be a part of and I have learned so much and gained such valuable insight, that it will take some time to digest it all.  My long-time friend and co-writer, Meghan Linsey was a contestant on NBC's The Voice.  She made it to the final four and came in 2nd place...which is really an AMAZING win in and of itself.  She found her solo "voice" by incorporating her love of soulful heart wrenching lyrics such as Girl Crush and our very own song, Change My Mind. as well as kick-butt songs like Marc Broussard's Home and Steamroller.  We can now add to our resumes, via our co-written song Change My Mind - a #5 song on itunes all-genre a #2 song on the pop charts and an incredible Youtube video.  The thing is, I thought the top of the mountain was 5 years ago when Meghan was in the duo Steel Magnolia and they won CMT's "Can You Duet", signed a record deal with Big Machine Records and I was signed right a long with them to the publishing arm of the label-trio that also had Taylor Swift, The Band Perry, Rascal Flatts, Tim McGraw, etc.. that we'd reached the top.  Then, for reasons out of our control, the bottom fell out and we were all shell-shocked and scrambling.  But we regrouped and started Bold Music Group and put out an EP that had critically acclaimed songs & videos  (by Rolling Stone among others) and things were starting to roll...again. And then The Voice opportunity.  Now it's up to me and Meghan and the fantastic team we've put together to utilize all the momentum and knowledge and wonderful people who've been put in our path.  i can't even begin to share the lessons the insights and all the pieces that so miraculously came together to bring us to this point.  But I will and when I do you will surely hear about it.  Until then there's a boat load of work and responsibility that comes with following your heart and your dreams and making things happen.  Succeeding in the music industry...or in any industry where creative people put their talent out there to be judged, is not for the faint of heart.  But I've come to understand that talent alone does not keep you in the game, there's a combination of much more and honestly I believe the universe and what you put out into it, is uniquely responsible for so much.  I'll leave you with a quote I have on my desk at home that reminds me, especially when things aren't happening as fast as I want them to -   
"Perseverance is not a long race; it is many short races one after another." 
Walter Elliott
Be well and keep on!!
Julie