WOW...when I look back at my last blog I can't believe it's been a year!  How does this happen?  And why?  Perhaps it's the same questions I so often ask myself... how did our little girl suddenly become 17 years old and on her way to graduating high school next year? How did I become a wife of almost 20 years?  When did life's trajectory become warp speed?  I remember all the well-meaning older married couple's telling us at our wedding that our years will fly by together...and when Haley was born other parents telling us to cherish every moment because she'll be leaving the nest before you know it.  I thought to myself...there are so many YEARS between now and then!  But they were right...it all rolls by in a beautifully detailed kaleidoscope of events that so quickly become memories.  There's no slowing down what rushes past us like a river on it's journey from it's source to it's final destination. Each of us will experience a vast array of twists and turns, dark days and days that sparkle and shine.  But the lesson is the cliche does fit...don't blink or you WILL miss it.
On to music news. This last year has been a wonderful, colorful kaleidoscope of my own... experiences that have funneled down to an amazing opportunity for my beautiful and talented friend and business associate, Meghan Linsey. We've released her first solo album and I'm proud to say I have co-written 3 of the 5 songs.  I was the production coordinator and stylist on the video for "Try Harder Than That" which was aired on CMT and played on Sirius XM - The Highway.  Most recently the single, Love Never Sleeps, which Meghan and I co-wrote with America's Got Talent alum and fan favorite, Emily West, has been receiving much airplay again on The Highway, while the video has been nominated for The Boot hall of fame.  Not to mention the entire album and singles have been killing it on itunes.
And finally on Feb. 23rd Meghan began her journey on NBC's The Voice.  I've been blessed to be a part of this experience and loved being able to head out to L.A. for the tapings and get to meet the many talented contestants and very cool judges.  It's really the BEST artist competition out there and everyone is a class act!  Tune in to see how Meg does...
I can't forget to update you all on Haley.  She's still doing the band thing and is putting together a new REBEL GRACE BAND.  They are playing out all around NE Wisconsin and are a high-energy group of very talented musicians.  She is also starting a charity called Good Music for a Good Cause, which will benefit people who face financial challenges, totally funded by Haley's new cd that's coming out this spring and an annual concert event with special guests.  Be on the lookout for her new self-titled cd that will be available at all her shows and on this website.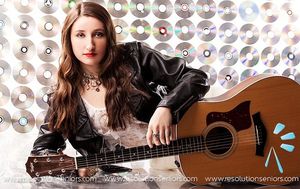 Hope all of you are off to a great 2015...and remember ~ you are smack dab in the middle of creating your very own beautiful, colorful kaleidoscope of memories...so don't blink!
Julie